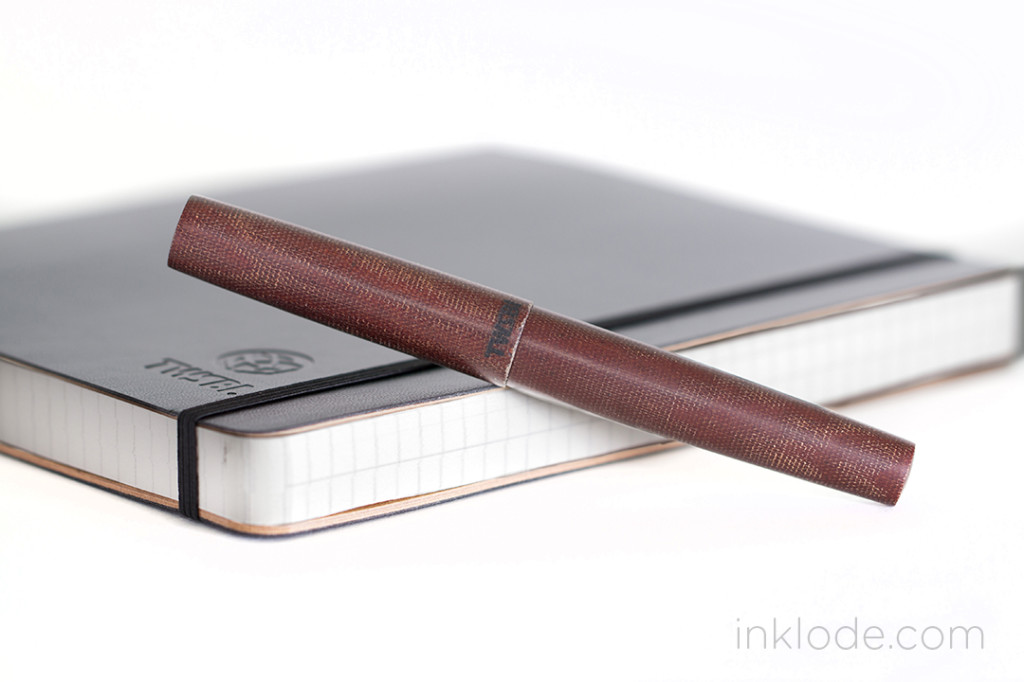 The TWSBI Micarta Version 2 is a beautiful fountain pen constructed out of a sturdy layered material known as Micarta. This material is used in a wide variety of roles from industrial applications to knife handles. The insulating properties of Micarta gives this pen a very unique feel and look to it that I find completely enthralling. The pen comes in both clipped and non-clipped versions, of which I chose the latter. Although it is lightweight, the pen does not feel cheap or "plasticky." Rather, the Micarta gives the pen an incredibly sturdy feel beyond that of the typical plastic/resin pen. The texture is smooth and it seems to even absorb moisture to a degree, so if you have sweaty hands you need not worry about your grip slipping at all. The cap screws off in two and a half revolutions with a fibrous sound and feel that is a bit difficult to describe, but I find it incredibly satisfying. The threads themselves have little fibers sticking out every which way when the pen is brand new, but they will wear off with use. I find this to be part of the charm of the pen– being able to see it evolve as you use it.
The nib is gold colored steel and is an incredibly smooth writer right out of the box. I had zero issues with start up or flow. The cap can be posted, but I find it feels a bit too long and heavy on the back-end if I do so. Version 2 of this pen has slight changes to the material as well as the updated nib and inner cap to prevent the nib from drying out.  The pen uses a cartridge/converter fill system which has given me no problems. However, I have noted that some inks may cause staining to the grip section if you dip your pen to fill from an inkwell. Some people have complained about the smell of the material, but I found the scent to be rather faint and it continues to fade as I continue to use the pen. Even so, the initial smell of the Micarta was nowhere near as powerful as the initial smell of the Noodler's Ahab when I first got it.
Included with the pen is one of TWSBI's notebooks with a storage slot for the pen within the book itself. I will not be discussing the notebook in this review, but I have included pictures to give you an idea of how it looks below.
I find this pen to be a joy to write with.  The Micarta material gives this pen a very unique look and feel that I have not experienced with any other fountain pen so far. The size and weight of this pen has ensured that I can write for long periods of time with no discomfort. I adore the Micarta material so much I may consider purchasing a second one.
Unfortunately, due to poor sales and high-manufacturing costs, TWSBI discontinued this pen at the end of 2013. Any remaining stock from TWSBI is the last of them before it is gone forever. I know that I will continue to cherish mine well into the future. Highly recommended if you like unique pens!
Nib material: Steel
Cap: Screw
Filling mechanism: Cartridge/Converter
Overall Length: 136 mm
Weight: ~24 g
Like what you see? Subscribe to our newsletter!