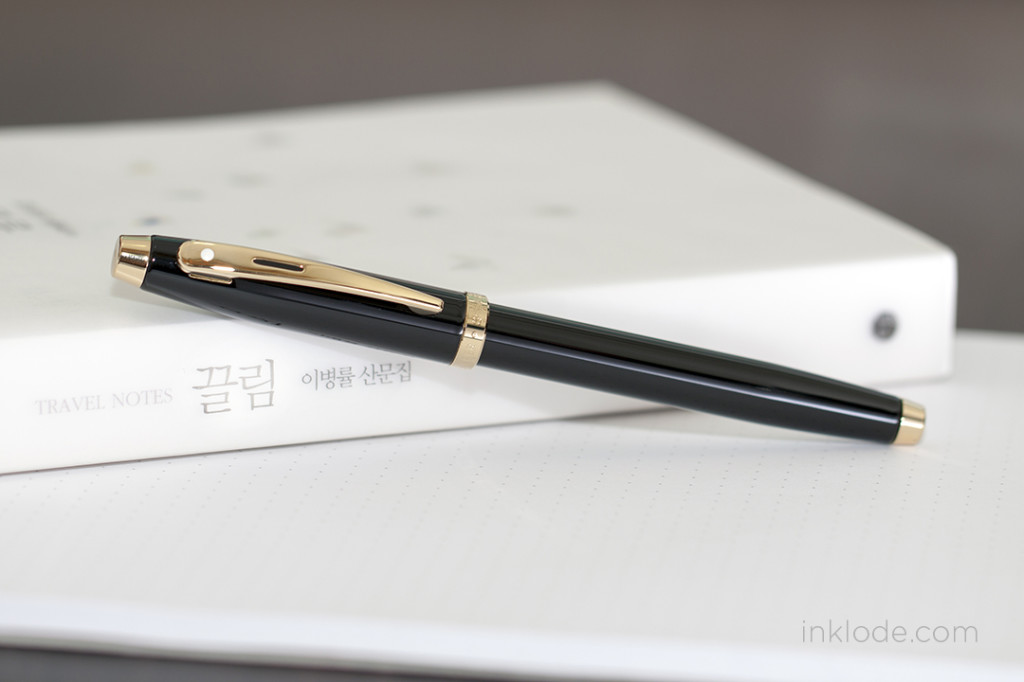 Even after all of the pens I've acquired, I still find myself drawn to affordable pens that give great performances. I had heard many good things about the Sheaffer 100, and a sale at my local pen shop finally convinced me to pick it up.
The pen comes in a variety of colors, including versions featuring design patterns printed on the barrel. You can also get the pen in either gloss finish or matte finish, depending on your tastes. While the matte finish really appeals to me, I decided to go with the classic, glossy black & gold version of this pen. I was not disappointed. The pen is striking and has an air of class to it that I think is lost on a lot of other pens in its price range. The construction is solid. There are no loose or wobbly parts that I could find. The cap eases onto the body with a soft, satisfying click. Even though the barrel is made of stainless steel, the pen does not feel too heavy. The grip section on the black & gold version is a polished gold, but I did not have any problems with my fingers slipping. It performs its duties as a grip section just fine. My only complaint is that it obviously attracts fingerprints like a glass mirror, but that is to be expected. Included with this pen is Sheaffer's converter. It holds a decent amount of ink and works reasonably well. The only potential issue I could see is that it slips out of the pen rather easily, so just be careful that you don't accidentally pull the converter out of the pen while you're filling from the bottle or trying to flood the feed with a bit of ink.
One of the shining features of this pen is, of course, the nib. The nib is very wet and very smooth. Flow is excellent and can keep up with fast writing very nicely. Considering the cost of the pen, I think the nib is spectacular. The only other feature that might outshine the nib, in my opinion, is the weight and balance of the pen. I love my resin pens, and I have to admit that switching between metal barreled pens and lighter weight resin pens after long periods of time can feel awkward and ungainly. However, there is something about the heft and balance of this pen that really appeals to me. Un-posted, the pen feels extremely comfortable in my hand. The balance feels almost perfect, to me. Since the cap is also made of metal, posting the pen makes it feel a bit too back heavy for my taste, but the cap posts quite deeply so it isn't as bad as some other metal pens I've used. One thing I did notice is that the clip is incredibly tight and I had trouble slipping it over some pockets, but your experience may vary.
Overall, I am really pleased with this pen. It is well constructed, writes wonderfully, and is very affordable. The durability and price could make this a great every-day-carry pen for anyone's arsenal. Definitely recommended!
Nib material: Steel
Cap: Snap
Filling mechanism: Cartridge/Converter
Overall Length: 138 mm
Weight: ~31 g
Like what you see? Subscribe to our newsletter!