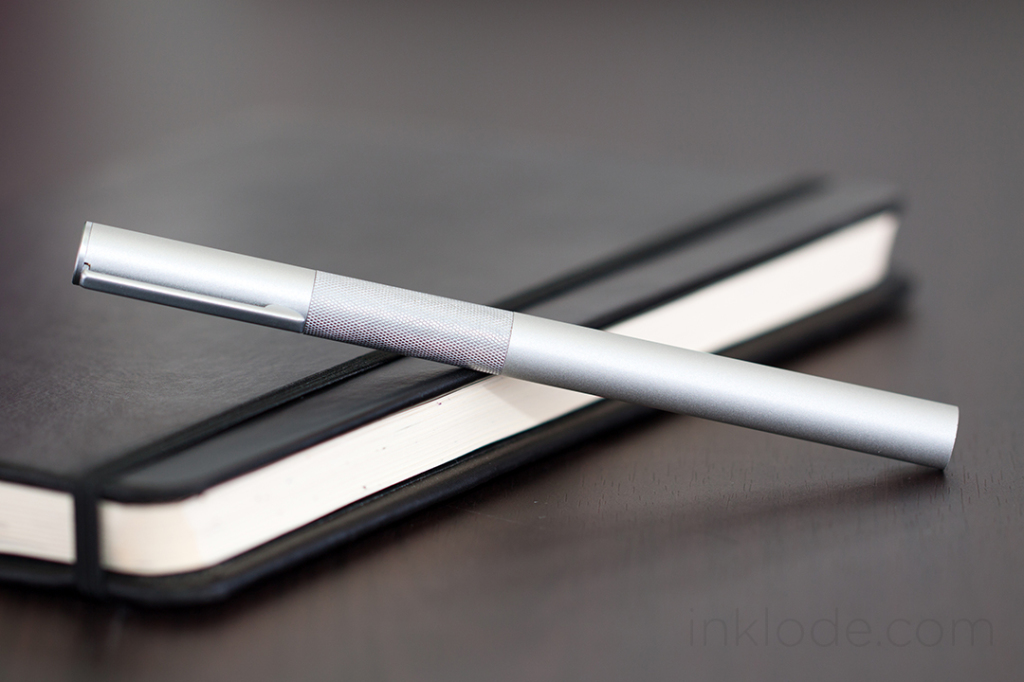 Muji is a popular retail company that has spread across the globe with their policies of simple design, use of recycled materials, and the omission of branding on their goods. They carry a wide variety of items from bookshelves and bed sheets, to t-shirts and travel bags. Within their vast assortment of items is the Muji Aluminum Round Fountain Pen. True to their word, this pen has no branding and takes on a simple form out of lightweight aluminum. My first impression, upon holding the pen, was that it felt cheaper than I had expected. Although the pen is made of metal, it feels quite light. The body is actually rather thin in some places, but that is not to say that it isn't sturdy. It feels well constructed and can probably stand up to a good amount of daily wear, but perhaps not as much as a pen machined from stainless steel, of course.
The pen is well balanced and the cap has been machined in a way that the metal circle along the bottom of the cap slides into a mirrored circular gap along the back of the pen. Along with the fact that the cap weighs very little, this means that the pen posts perfectly and is actually one of the few pens that I prefer to write with posted (it feels a tiny bit too light without the cap). The knurled metal grip section has been a point of contention for some, but I have found it pleasant to hold and rather comfortable, in the grand scheme of things. The only issue I had was the fact that the body is actually quite thin and I generally prefer larger pens, but that is a personal preference.
Despite the low-price of the pen (under $20 USD), the nib is actually incredibly smooth. It is adorned with some generic scroll work and reads, "Iridium Point." Regardless of its place of origin, the writing experience says it all. The nib glides across the paper with ease and the feed keeps up perfectly. I have had no issues with flow or skipping.
Like what you see? Subscribe to our newsletter!